Finding the right fit for an internship is just like finding the right fit for a university, scholarship, or texting platform. Lucky for us, we found perfect fits with our three rockstar summer interns! Alexa, TK, and Evan are helping us reach our goals and bringing fresh new ideas to the Signal Vine team. Read more about them in Alexa's first blog post: Meet Our 2017 Summer Interns.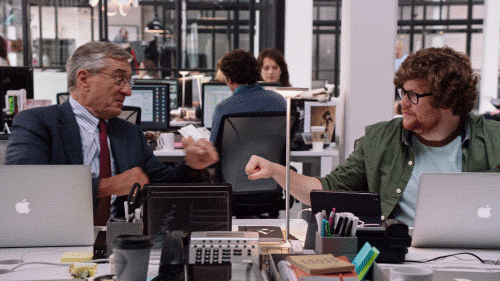 Where do you go to school and what are you majoring in? When do you graduate?
Tarek: I go to Virginia Tech and am majoring in nanoscience. I'll be graduating in December 2017.
Alexa: I'm a rising senior at Elon University in North Carolina and will be graduating in May of 2018! I'm studying Public Health and International and Global Studies.
Evan: I'm going to Rochester Institute of Technology as a computer science major. It's a 5-year program so I'll graduate in 2020 despite being a junior.
Where did you grow up?
T: I have lived in NOVA for most of my life.
A: I grew up just thirty minutes from the Signal Vine office, in Potomac, Maryland.
E: It's a bit complicated for me. I was born in Switzerland as a US citizen and lived there for a couple years. Then, my family moved over to Japan where I lived for around 6 years before coming to Northern Virginia. I've spent the most time here in the US so I think of myself of having grown up here. That being said, the time I spent overseas definitely influenced me and is a part of who I am.
What are you doing as an intern at Signal Vine this summer?
T: This summer, I'm currently tasked with working on incoming tickets as a software developer. I'll be editing content as requested and will soon include penetration testing of the system. I also sit in and contribute to staff meetings.
A: A variety of things! As the Business Development intern, I'll be doing prospective and market research, updating marketing and training materials, and writing blog posts.
E: I convert the customer's requests into PDL (Program Definition Language), a format that our system can use, so automated messages can be sent. I also spend time learning the technologies, the code base, and the development process that Signal Vine uses. Specifically, I am preparing myself to be able to contribute to the back-end of Signal Vine's website. I also occasionally write scripts to make life easier for me and the others working on PDL.
What do you like to do when you aren't at Signal Vine?
T: I enjoy relaxing, working on cars, and being outside.
A: Outside of Signal Vine, I enjoy reading, horseback riding, and hanging out with my friends and family. This summer, I am also spending most of my weeks nannying. I love traveling and learning about different cultures.
E: Recently, I've been spending most of my free time with my hometown friends that I can only see during the summer. Besides that, I love everything related to music (despite being awful at playing and making it), and I go to a lot of live shows. I also usually love spending time in the gym, but I've slacked a little on that this summer. I'm a die-hard tabletop gaming enthusiast too, which means playing board games, Dungeons & Dragons, and other extremely nerdy things. On weekends I spend my time volunteering with the other people at Food Not Bombs DC to bring food to the homeless.
What do you hope to gain from this internship?
T:  I'm looking for real-world experience in a field that I'm not too familiar with. I know that this will help me after I graduate.
A: Prior to this internship, I worked with nonprofits and the federal government, and I want to be able to diversify my work experiences before I graduate. Signal Vine is the perfect place to gain crucial business knowledge, and after only two and a half weeks I have already learned so much!
E: I want to learn new technologies, practice my coding skills, and gain experience working as part of a professional development team during my time at Signal Vine. I am striving to learn fast so I have an opportunity to contribute to our main code base. Also, my time here will go towards my university's cooperative education requirement, so by working here I'm also hoping I can get closer to my graduation.
In 160 characters, describe what you are most looking forward to about your Signal Vine experience.
T: A small company lets me see its inner workings and gain knowledge that I can't get in most places, and I can learn a lot from software development work.
A: I love that I can learn practical business skills while working with a small company, and at the same time impact the mission to improve student outcomes.
E: I'm really excited to help develop the many aspects of the platform that interest me, and to do it at a company with an extremely friendly and welcoming culture!
Signal Vine is currently hiring for a Marketing & Events Intern. Are you or someone you know interested?